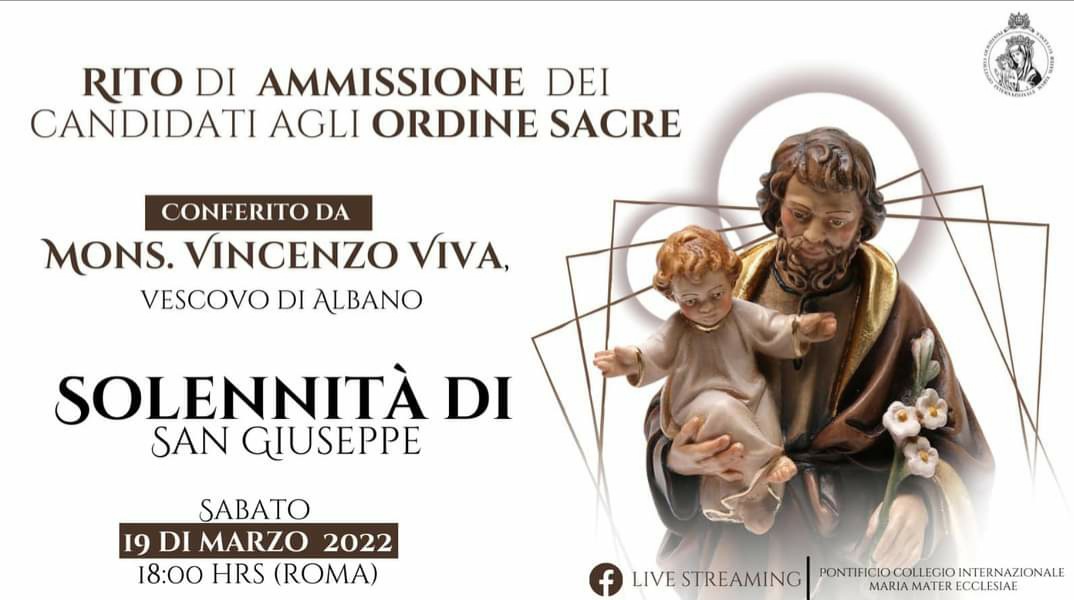 Admission to Holy Orders
On Saturday, March 19, the Solemnity of St. Joseph, seven seminarians from Puerto Rico, Mexico, Ecuador and Venezuela were admitted to Holy Orders. The celebration was presided over by Monsignor Vincenzo Viva, Bishop of Albano.
The celebration took place in the chapel of the International College Maria Mater Ecclesiae.
In his homily, Msgr. Vincenzo stressed the importance of becoming disciples of Jesus on the path to ordained ministry, guided by an epiphany of desire and will. This step (admission to Holy Orders) becomes part of the stage of configuration, in which the candidate for orders is configured with Christ the Good Shepherd, offering himself.
Bishop Vincenzo recalled how the figure of St. Joseph was a caring guardian of Jesus; he lived his fatherhood in silence, in obedience and with the firm conviction of cooperating in the plan of salvation. His was a paternity not so much physical, but by free choice. St. Joseph put faith in the will of the Father and for this reason we must imitate him by growing in fatherhood as a gift of service. Do not be afraid, trust in God who is the Father of many – said his Excellency-.
Afterwards, Bishop Vincenzo accompanied the community to dinner. At the end he said some moving words in which he commented that he missed the seminary. He remembers with great affection his time as rector of the Urban College.