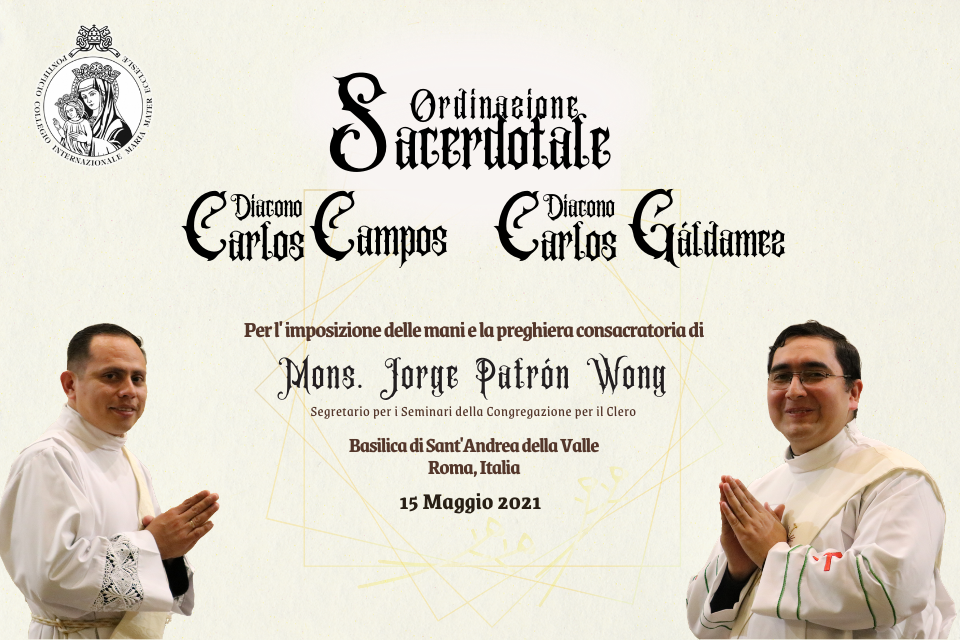 Priest ordinations – May 2021
On 15 May, two deacons from the College received priestly orders.
Deacon Carlos Iván Campos Arrevalos and Deacon Carlos Armando Galdámez Cortez, from El Salvador, received the priesthood from the hands of Mgr Jorge Patrón Wong, secretary for seminaries at the Congregation for the Clergy.
The ceremony was celebrated in the church of Sant'Andrea della Valle, Rome.
In his homily, Mgr Patrón emphasized several elements proper to the priesthood. Firstly, referring to Jesus Christ the Good Shepherd, the priest must live with this confidence that the Lord will always be with him. Indeed, 'The Lord is my shepherd, I shall not want,' says the Psalm. The priest must configure his life to Jesus the Good Shepherd. He must not cease to be a sheep in the hands of God the Father, of the Church. To be a Good Shepherd, it is necessary to be a sheep. Those who allow themselves to be formed, to be permanently guided, will be able to do so with others.
Then, the bishop recalled three fundamental attitudes of which the Holy Father Francis speaks: the attitude of closeness (with God, with the bishop, with his brothers in the priesthood, with his people), the attitude of mercy (the Church and the world need priests like this: to console, to lift up, to give hope, strength, to seek the lost, to bear with patience, to be ministers of reconciliation) and the attitude of service (configured to Christ the servant. Stooping to wash the feet of our brothers. Do not hesitate to put ourselves at the service. To serve his people at all times, in difficult moments such as those that El Salvador is experiencing).
Here are some photos of the ceremony
We thank the Lord for the gift of these 2 new priests for the Church and as the bishop said, we pray to the Lord to send workers to his table.