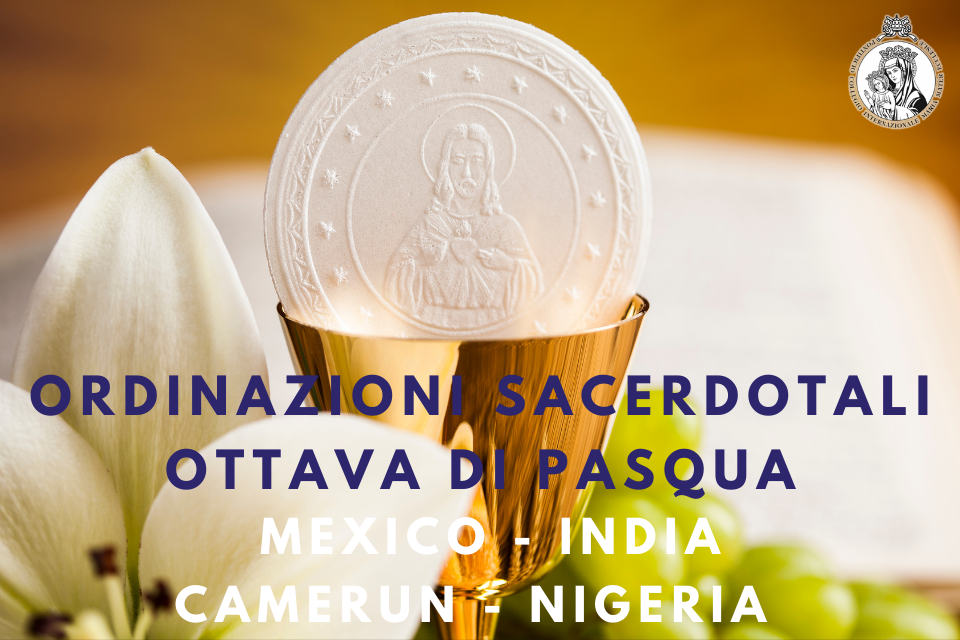 Ordination in Messico-India-Camerun-Nigeria
During the Easter Octave, we had the great joy of having seminarians and deacons from the College receive deacon and priest ordination in their respective countries. Below is the list:
Deacon ordinations in Mexico
On 5 April last, the seminarians Ramiro Vázquez Aguilar and Luis Carlos Rodríguez López received the deacon ordination.
Bishop Gerardo de Jesús Rojas López, Bishop of Tabasco, presided over the ceremony with the two key moments of deacon ordination being the imposition of hands and the consecratory prayer.
The deacon Luis Carlos in his own words to describe the grace he received:
By the grace of God I have been given the ministry of the diaconate. It is true that this grace is undeserved, but by the mercy of God, it is given to men so he may send his graces, which I see as the Lord's main task for me as the principal charge of the Lord towards me and of which I will make my banner to sustain me in this ministry.
Priestly ordinations in India
The deacon Jay Kumar Rodda was ordained to the priesthood on April 7 at Holy Trinity Church Indervelly by His Eminence, Msgr. Prince Antony Penengaden, from the diocese of Adilabad. In his family, they are his paretnts, 3 brothers and 1 sister.
Here is a vocational testimony of Fr Orneil: Testimony Fr. Jay
Priestly ordinations in Cameroon
On 9 April, two deacons from Cameroon received the grace of priestly ordination: Orneil Niver Lengue and Alfred Vetam Lienyuy. S.E.R. Mgr. Andrew F. Nkea, Metropolitan Archbishop of Bamenda and Apostolic Administrator of the Diocese of Mamfe presided at the ceremony.
– Fr. Orneil Lengue has a family whose father is also a village chief. For his ministration, the bishop asked him to be the youth chaplain at Saint Peter and Paul Parish Okoyong. Besides that, he is also a professor of French and logic at Our Laday Queen of the Holy Rosary Okoyong College.
Here is a vocational testimony of Fr Orneil: Testimony Fr. Orneil
– Fr Alfred has three brothers in his family. As a ministry, the bishop has entrusted him with the chaplaincy of the youth in the parish of Sainte Trinité de Ekok. He is also vice-parish priest at the same parish.
Here is a vocational testimony of Fr. Alfred: Testimony Fr. Alfred
Priestly ordinations in Nigeria
On 10th April, Bishop H.E.R. Valerian Maduka Okeke, Archbishop of the Diocese of Onitsha, Nigeria, at the Basilica of the Most Holy Trinity in Onitsha, conferred priestly orders on 2 deacons: Emmanuel Chigozie Oguekemma and Charles Ekene Aniekwe.