Rectors Christmas message 2022-2023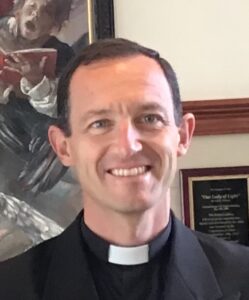 PEACE, PEACE, PEACE
The peace and love of Christ be with you all!
It is Christmas. And Christmas is a time of peace, of love, of good feelings, of good wishes, of works of charity. Let no one take away our Christmas spirit! Let no one take away the spirit of God!
The year 2022 has been marked by the outbreak of a terrible war (all wars are terrible) in Ukraine. And, as Pope Francis tells us, we cannot forget other places in the world where people are also suffering the calamities of war: Syria, Yemen, Myanmar, Ethiopia, and parts of Nigeria, Cameroon, Congo, South Sudan….
Jesus, the Son of God, came to this world to bring us peace: Peace be with you! Jesus came to show us the infinite love of God the Father for all men, and to teach us to love one another. Now, God respects our freedom, and it is up to each one of us to accept and welcome this message or not. "He came to his own, and his own did not receive it (the Word), but as many as received it, to them he gave power to become children of God" (Jn 1:11-12). Children of God who live in love and live in peace.
I tell you an anecdote: on Christmas night 1914, Europe was at war. In Ypres (Belgium), British soldiers were standing guard in their trench. Suddenly they heard a Christmas carol: the Germans were celebrating Christmas by singing, and announced to the other side that there would be a truce that night. The next morning, some soldiers from both sides came out of their trenches, walked forward and shook hands with the "enemy", buried the dead and exchanged food. A small Christmas miracle had happened.
Dear friends, let us take to heart the message of Jesus, let us take to heart this Word of God, and let us strive to build peace and love among ourselves, starting with the people around us. And then there will be a little more peace in the world.
Merry Christmas to all.
P. Enrique Tapia, LC. Rector