Rectors welcome 2021-2022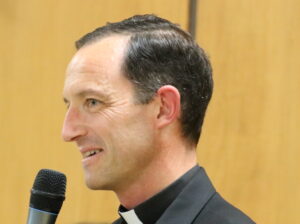 Dear friends,
Thank God we are beginning a new academic year at Mater Ecclesiae.
From August until now, we have received 19 new seminarians from Ecuador, Venezuela, Puerto Rico, Italy and India. And also 10 new priests from Vietnam, Zambia, Madagascar, Nigeria, Cameroon, Uganda, South Sudan, Italy, India and Zimbabwe.
The team of formators has also been renewed with four new priests, replacing others who received another apostolic assignment.
A year ago, in the article I wrote for this website, I asked God to bring us the vaccine against covid. Thank God there are already many vaccines in the world, many countries with the majority of the population vaccinated, and here in Rome most of the seminarians and priests can continue their studies by going to the university. Blessed be God. Undoubtedly much remains to be done to alleviate the negative effects of this pandemic, we will continue to pray for this intention.
This year 2021 we are celebrating the 30th anniversary of the founding of the International College Maria Mater Ecclesiae. For this reason, and to thank God for so many benefits received, on October 10 we will celebrate a Holy Mass, presided by H.E. Msgr. Jorge Carlos Patrón Wong, Secretary of the Congregation for the Clergy, in which some alumni of the College will participate.
We place this new course in God's hands, so that the priests and seminarians of Mater Ecclesiae may continue to form good Pastors according to the Heart of Jesus.
Please pray for us. Thank you very much.
P. Enrique Tapia, LC. Rector